Gulf Village 106 | Gulf Shores Vacation Rental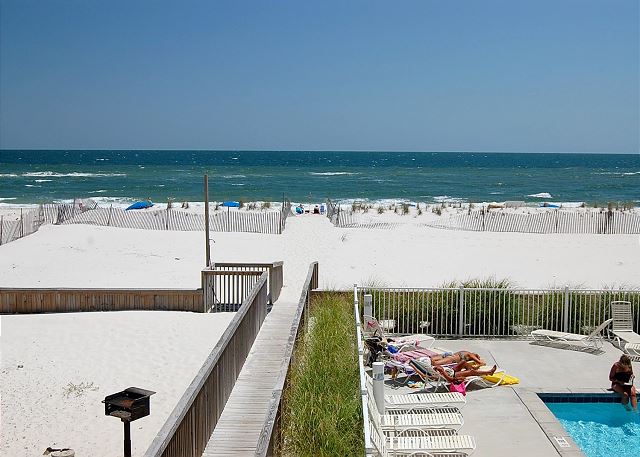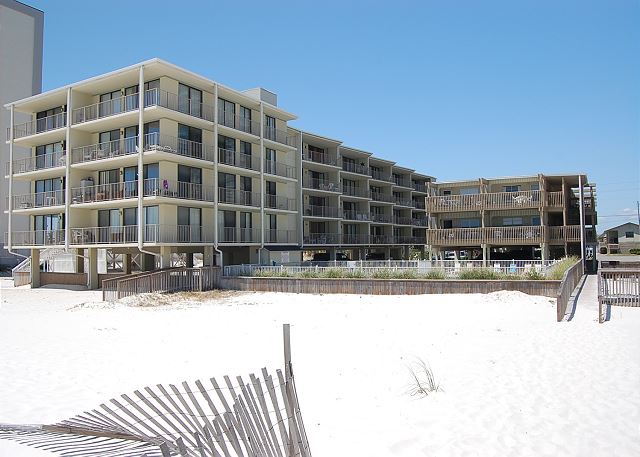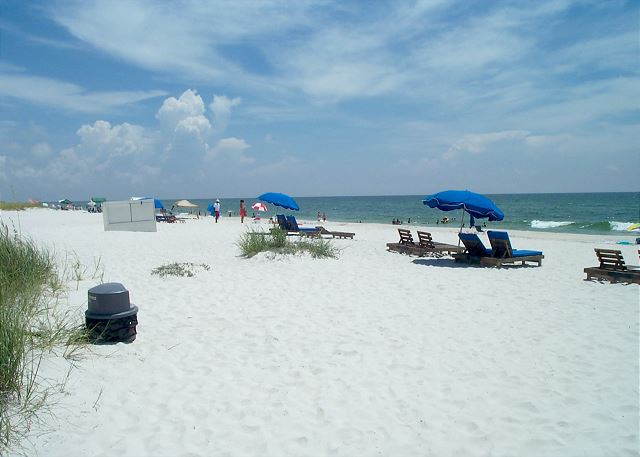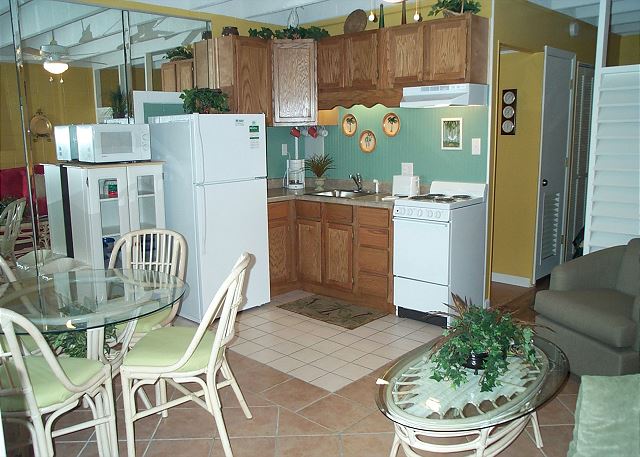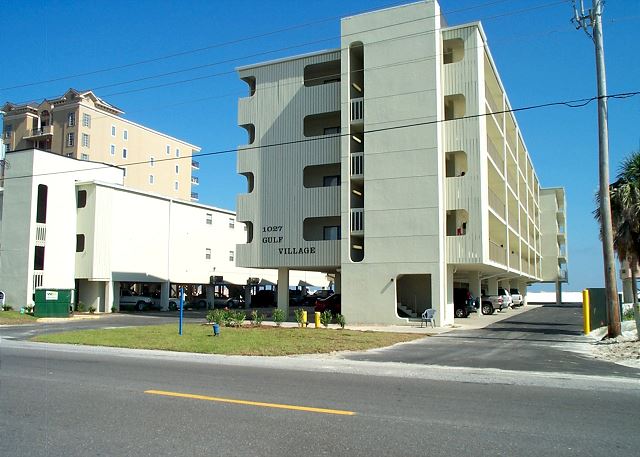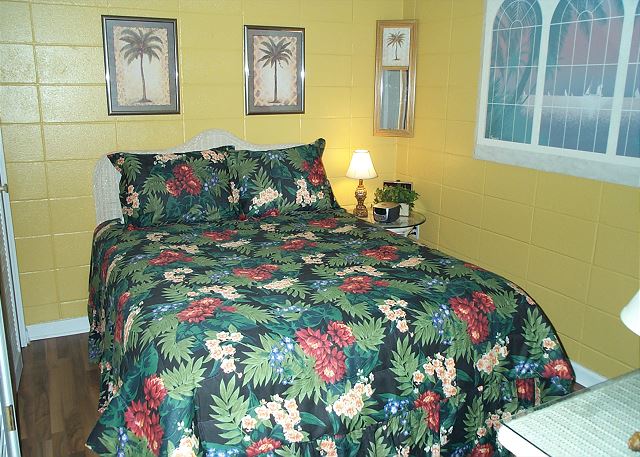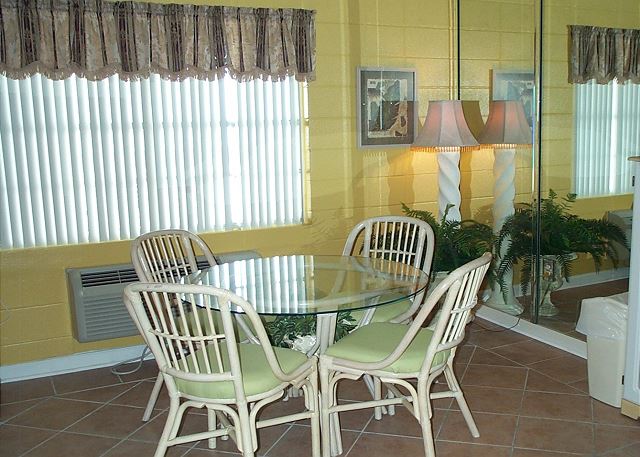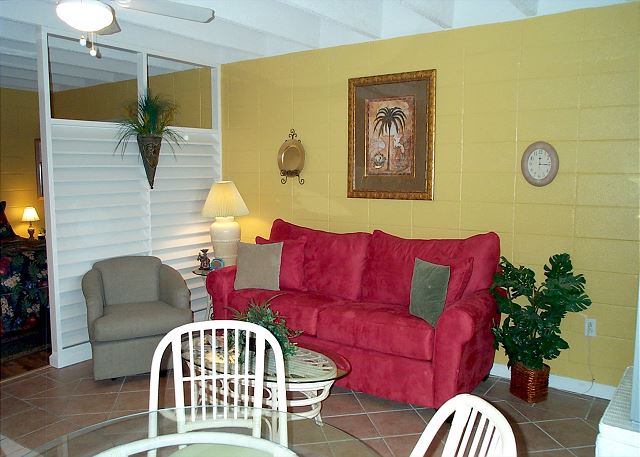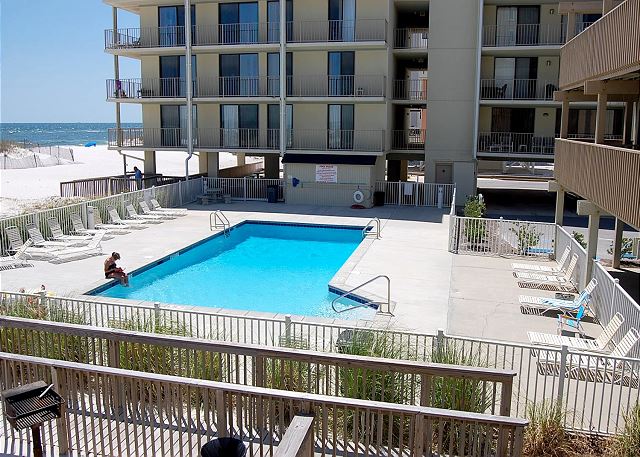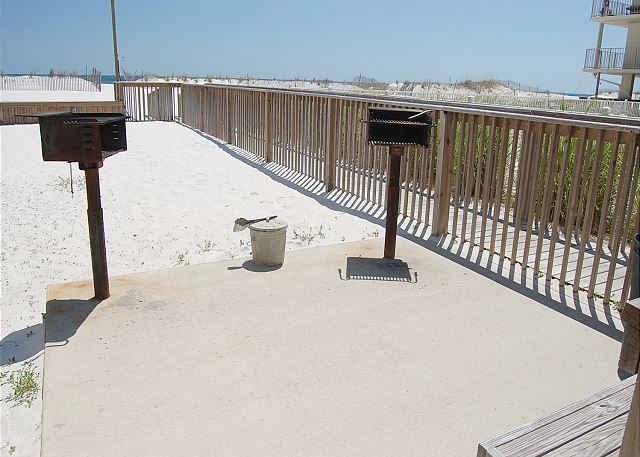 This Gulf Shores Vacation Rental is a first floor efficiency that will sleep 4. This is a direct gulf front unit with a fantastic view of the pool and the beach. You have a full size bed in the semi private bedroom and a Queen sofa sleeper in the living area, full bath and a kitchen. No dishwasher. This is a first floor walk-up with a semi private balcony located in the middle building. There is a laundry room on each floor. In addition to the gulf front pool, all guest have access to a private pier on the Lagoon across the street. This is an excellent spot for crabbing and fishing. The pier is lighted at night, with a little skill you might be lucky enough to gig a few flounders for your dinner. There is also a second pool for your use across the street from the beach. This complex offers covered parking. . The unit is non-smoking. No pets. We have multiple units at Gulf Village, if you have more than 1 family coming and want your own space. FREE WIFI. This Gulf Shores Condo is located at 1051 West Beach Blvd. approximately 1.3 miles west of the main intersection. NO PETS! This property allows one parking per reservation.

PLEASE CALL TO BOOK WINTER RENTALS! Monthly reservations made online will not be confirmed until a reservationist reviews the booking details and verifies that the pricing is correct. If there is an error you will be contacted! Also, in order to avoid same day booking we do not allow reservations to be made online if booking within 48 hours of arrival. Several of our rental properties do have a nightly minimum requirement. If the calendar shows a property is available but you are unable to book online, please feel free to contact us atto ask questions in order to make reservations. No trailers.

Free Amenities package included with stay: Amenities include: One complimentary adult admission to Waterville Water Park, Dolphin Cruise, and Deep Sea Fishing, good for all days of your stay, excluding date of departure. (Some restrictions apply) Dolphin Cruise and Deep Sea Fishing are available March-October. Water Park is available May-Labor Day.

Looking for a getaway that entertains as well as it soothes the mind and body? Look no further; Orange Beach and Gulf Shores Alabama is the vacation getaway for you. Play in the sand by day and retreat to your own private vacation home at night, the perfect place to enjoy grilled seafood around your private deck or patio. Throw your own family Bar-B-Q and hangout poolside and enjoy family time. If you are traveling with children, there are plenty of exciting and educational family activities all along the Alabama Coast.

Explore the Alabama Gulf Coast Zoo: Home of Animal Planet's "The Little Zoo That Could". This well kept zoo is located just off Gulf Shores Parkway and is home to more than 350 types of animals

Add to your beach stay by treating yourself to a day at the spa. There are many spas in Gulf Shores or Orange Beach that offer massage therapy, facials, pedicures and more.
| | Nightly | Weekly | Monthly |
| --- | --- | --- | --- |
| November 01 - January 31, 2020 | $90 | $540 | - |
| February 01 - February 29, 2020 | $90 | $540 | - |
| March 01 - March 13, 2020 | $112 | $672 | - |
| March 14 - April 17, 2020 | $112 | $672 | - |
| April 18 - May 13, 2020 | $112 | $672 | - |
| May 14 - May 17, 2020 | $179 | - | - |
| May 18 - June 18, 2020 | $148 | $888 | - |
| June 19 - June 30, 2020 | $163 | $978 | - |
| July 01 - July 05, 2020 | $179 | - | - |
| July 06 - August 06, 2020 | $163 | $978 | - |
| August 07 - September 07, 2020 | $110 | $660 | - |
| September 08 - October 31, 2020 | $93 | $558 | - |
| November 01 - January 31, 2021 | $75 | $450 | $675 |
Minimum Age Limit for Renters
Thank you for entering your review. The review will become available to the system shortly.
Great view and location, rental could use deep cleaning
Rating:
Review Date: 07/05/2019
My husband and I chose this rental because it was right on the beach and in our price range. When we first walked in we did notice a slight mildew type smell. It could use updating by taking down the fake plants. We noticed several areas that didn't appear to have been cleaned, like the vent hood which had some type of food adhered to it as well as some kind of substance above the back splash in the bathroom. on the brick part and the mirror behind the fridge was dirty. We enjoyed the balcony with the table, chairs and swing; they made a very nice place to sit and enjoy the view of the ocean.
Wonderful Beach
Rating:
Review Date: 06/10/2019
Everything was good except for the air conditioner isn't working like it has in the past . Had a guy come and look at it and he added Freon , but that only lasted a couple of days , good thing it cooled off outside the last 2 days . Glad to see the swing put back up tho .
Manager Response: 06/11/2019
Response from Anchor Vacations, Inc.
We are so sorry that you had an issue with the A/C not cooling. They have since ordered a part for it and will have it cooling like it should! We hope to see you again soon!
Gulf Village 106 May 2019
Rating:
Review Date: 05/20/2019
My wife and I have stayed at this unit several times over the last 10 years. It is ideal for the two of us with a complete kitchen and one bedroom. The gulf view is great and the porch swing is a nice touch. No hesitation in recommending to a couple or small family.
Manager Response: 05/23/2019
Response from Anchor Vacations, Inc.
Thanks Bob! We look forward to your next trip to the beach!
Location is Everything!!!
Rating:
Review Date: 08/16/2018
This our 3 stay at Gulf Village 106. The location is perfect. Not only to the beach but to restaurants( which we have 2 favorites) and shopping. We also love the swing on the deck. We just love this area and we'll be making more trips. Anchor Vacations is awesome to work with when making your reservations and answering any questions you might have (the suggestion of eating at Wolfe Bay Lodge was wonderful-added to our list of favorites)
Manager Response: 08/23/2018
Response from Anchor Vacations, Inc.
We love to hear from all our guest but we truly do appreciate our guest that return year after year! Glad you took my advise to try Wolf Bay Lodge! We look forward to seeing you again on your next visit to our beautiful beaches!
A little place perfect for a small family
Rating:
Review Date: 07/26/2018
We had a great time. The only thing to complain about was the sleeper sofa was very uncomfortable.
Manager Response: 08/02/2018
Response from Anchor Vacations, Inc.
Thanks for your review, we always appreciate the feedback!
Awesome First Visit to Gulf Shores
Rating:
Review Date: 07/10/2018
We loved everything! The swing on the porch was just like home with a better view. We were in town for the USSA World Series (which we won!!!) so we didn't have as much time to relax as we wanted. We will definitely be back!! We are faithful Daytona Beach goers, but your property, location, and amenities have converted us!
The Samples
Manager Response: 07/17/2018
Response from Anchor Vacations, Inc.
Courtney! We are so pleased that you loved Gulf Village 106! It is a great location and we look forward to seeing you again! Be sure to book direct!
Wedding trip
Rating:
Review Date: 10/25/2017
This place worked fine for what I needed. We made it through hurricane Nate here! It leaked water during the hurricane but a call to property management and they were quick to respond. Overall a nice place
Manager Response: 11/29/2017
Response from Anchor Vacations, Inc.
We hope you will come back and have better weather!
Gulf Shores 2017
Rating:
Review Date: 07/29/2017
I guess I didnt read all the private bedroom, no dishwasher, or w/d. Otherwise...great. Bed was super comfortable. Love being right over the top of the swimming pool and being able to see the beach... Needs chairs for the patio.
Nice location
Rating:
Review Date: 07/26/2017
Our place was as described but knowing it's an older place and having the unit look dated was different. There were a lot of artificial plants in there and a number of them were very dusty. That is hard for any housekeeper to keep dusted. The internet connection was sporadic so we had to use a lot of our data. Part of the popcorn paint from the ceiling fell down due to moisture from the rain. But, overall, the unit was clean and the location ideal. The Anchor staff were pleasant and helpful.
Vacation
Rating:
Review Date: 07/09/2017
We had an awesome time, everything was clean and furnished beautifully, the bed was very comfortable, thats hard to find when your away from home. The pool was nice and located perfectly. The view was awesome . My only complaint is, I would have loved a porch swing to see the view and the patio furniture needs replaced to sit higher so you can see the view. Thanks for a great vacation that was reasonable priced
Fathers Day Trip
Rating:
Review Date: 06/21/2017
great experience. the only issue was the pullout couch bed was very uncomfortable
Perfect Quaint Getaway
Rating:
Review Date: 06/16/2017
This rental experience was awesome; after having 1 failed Expedia experience and 2 failed Airbnb attempts on renting somewhere in Gulf Shores, I was hesitant to even try. I booked this condo around 4 pm and at 8 am the next day, an agent from the vacation rental company called me to confirm my stay. Everything was absolutely perfect. The condo is older but it is around older buildings and not interrupted by skyscrapers. The rental does not have central air, but the air conditioning unit works like a breeze and cools the whole property just fine.
The view is UNBEATABLE, and the walk to the coast is at best, 500 steps. Definitely worth it.
Awesome!!
Rating:
Review Date: 05/22/2017
This is our 2nd time staying at this location. My husband and I love it.. it's just a few steps to the beach and located within a mile or two of all our favorite places to eat..the only draw back this time was there wasn't a swing on the deck and we missed that..
Manager Response: 05/23/2017
Response from Anchor Vacations, Inc.
Mrs. Luton, thank you for taking the time to give us your feedback. We are so glad you guys enjoyed your vacation! We look forward to seeing you guys on your next trip to the Gulf Coast!! Take care! - The Anchor Vacations Team.
Not bad for the price
Rating:
Review Date: 03/28/2017
The room location was perfect! Not corner, overlooking the ocean and the pool. The space could be outfitted with a few additional basics, like dish soap, but overall, it was ok. The sawage smell that came from the bathroom needs to be addressed but we discussed at check out.
Manager Response: 03/29/2017
Response from Anchor Vacations, Inc.
Mr. Beyke, thank you for taking the time to give us your feedback. We are so glad to hear that you enjoyed your unit. We did let maintenance know of the smell, thank you for bringing it to our attention. We hope to see you again on your next visit to the Gulf Coast! Take Care! - The Anchor Vacations Team.
Gulf Village 106
Rating:
Review Date: 02/22/2017
First time renting a condo on the beach in Gulf Shores. 106 was perfect for just my wife & I. It was clean and well kept. The Wi-FI is not good, signal kept dropping and we would have to log back in. Other than that we really enjoyed our stay.
A gulf shores retreat
Rating:
Review Date: 01/27/2017
Clean rooms in a convenient location. Close to restaurants and stores without being too busy. This is my second time to stay on this property and was again very satisfied. My room directly faced the beach with a porch/ balcony with a great view and good seating. I plan to stay here again.




Your request has been sent. We look forward to meeting all your vacation needs!